Terry McDonagh offers: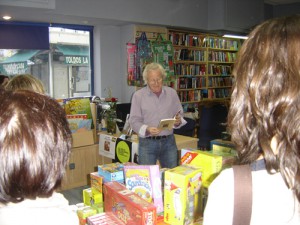 Creative writing workshops
Drama workshops
Help with book-week planning
In-service for teachers
Poetry readings for children and adults
His workshops can be tailored for students between the ages of 9 and 99.
Cost: Negotiated according to agreed programme.
COMMENTS:
Terry has worked with students at Bonn International School on three separate occasions.  Each time he has entertained them, engaged them emotionally, challenged their notions of poetry and literature in general, steered them towards precision and clarity in their writing and inspired them to create their own work and enjoy the whole creative process in general.
As teachers, we have been able to follow up on the work Terry has done and have been astonished at the powers of perception he manages to unleash from the bonds of safety and sterility in thinking and writing.…John Duffy – Head of English, Bonn International School.
With his poetry, Terry McDonagh builds a language bridge between Hamburg and Ireland

– Hamburger Abendblatt
McDonagh's poetry is characterized by richness of colour and precision – the trademark of the born poet. In his clear, simple style he invites us into a world in which we can learn more about ourselves
– Hamburg International Poetry Festival Programme
A stroke of luck to find a poet who is not only a good poet but also a good reader. Terry McDonagh's poetry grow out of everyday situations but his thoughts and observations do not remain on the everyday surface
– Kieler Nachrichten
Here are poems of thresholds: the pub, church, graveyard, shop-door, a bus stop in Hamburg. There is pathos, irony and social comment in a voice that is accessible and fond. "I can live anywhere, I think…"
– Meg McNeill, Tintean, Melbourne.
Terry McDonagh's energy and ability to bring poetry and drama to life is special and truly amazing…Joe Waldron, PLC Coordinator, St. Louis Community School, Kiltimagh.
Last Friday was the best Friday of the year! I was really interested in using imagination. I would pay for Terry to return…Cian Geraghty
Friday was fun and interesting. I loved doing our own poems and then reading them. The games were really good and fun. It would be great if he came back and did it again…Megan Dever
Last Friday was the best Friday in school ever. I really like doing poetry and learning how to write one properly. I'd love if he came back again. It was class.Sheena
I thought Friday with the poet was great. He was full of energy and his poems were fantastic. The exercises we had in the hall were brilliant…Dearbhla
Terry was a brilliant poet! He was really funny and the drama we did after break was fantastic. He did really fun poems with us as well…Stephanie
---
Poet brings literature to life
Terry McDonagh, the poet and dramatist of international acclaim, arrived in Davitt College recently. Throughout the course of his visit he hosted a variety of workshops, which catered for the Transition Year and fifth year students within the school.
http://www.con-telegraph.ie