LADY CASSIE PEREGRINA
Mysteries – real and imagined – are part and parcel of Terry McDonagh's extensive travels in Europe, Asia and Australia, but there is nothing more mysterious, intense or surprising than his journey-in-verse from Cill Aodáin, Co Mayo to Hamburg in the company of a border collie, Cassie.
This fragile peregrination began in the ISPCA centre in Ballyhaunis and, gradually, grew into a collection of poetry with three sections devoted to Cassie's point of view and three to the poet's. It is a venture of discovery – transforming familiar motifs and ways of seeing the ordinary. The magic in childhood experience is rekindled: The Virgin Mary and witches would have spent time here…
…and, all the while, cautious Cassie begins to manifest a forgotten zest for life in her loops and bounces as she takes lanes, byways and bog roads in her stride – reminding us that she has a living voice of her own::
It seems like only yesterday
a dark beast lurked under my skin,
but now that I've found a family
I don't have to be afraid anymore.
McDonagh seems surprised by the thrust of the task that creeps up on him. This is a man who'd never had more than a fleeting interest in dogs at any time:
Last year we didn't have a dog – didn't
really want one – but now we do:
a high priestess in black and white who
is teaching me to snarl into snapping elements.
It's an odyssey that forms new intensity – moods swing lyrically on road and ferry from Cill Aodáin to Hamburg via Larne, Scotland, Newcastle, and Amsterdam:
I'm a foreign dog in a foreign country, straying
even further away from the turf smells
I'd grown accustomed to…
These poems encompass the natural, animal and human world – they are one – linked by the presupposition that nature and all living things are bound together by a common destiny of birth, a season of life and ultimate death. History, landscape, tragedy and destiny bond in richly textured, immensely sensitive work – emotion and story are fused with great lyrical artistry. Man and beast share the same fragile stage.
I always knew I'd have to travel
but there's an end to it … well, isn't there?
ECHOLOCATION:
Whether writing for children or adults, in poetry or prose, Terry McDonagh consistently finds the right balance: accessible but never too easy; charming but never sentimental; playful but never shallow; socio-critical but never finger-wagging. He ticks all the boxes but thinks and writes outside them. In this new collection for young people the poet never forgets the schoolboy he was – Ian Watson, author, poet and literary critic.
Terry McDonagh is an original and exciting voice in children's poetry. In vibrant verse, he performs stories that plunge us into amusing, absurd and vulnerable aspects of the lives of young people. This latest collection is compulsive reading – Niall de Búrca, Irish, International storyteller.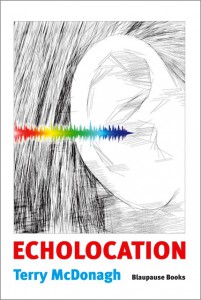 Terry McDonagh has worked with students at Bonn International School on three separate occasions. Each time he has entertained them, engaged them emotionally, challenged their notions of literature and steered them towards clarity in their writing, inspiring them to create their own work and enjoy the process. As teachers, we have been able to follow up on Terry's work and have been astonished at the powers of perception he manages to unleash from the bonds of of safety and sterility in thinking and writing – John Duffy, author and Head of English, Bonn International School, Germany.
---
Michel the Merman
Michel, a little boy from Hamburg, taller and smarter than all the other children, is bitten by a fish and changes into a merman. In the early days of his new life in the river Elbe, he feels lonely and confused. Bit by bit and with the help of Blanke Hans, the King of the North Sea, he learns to decode the language of the ocean. He discovers his ability to swim through time and in of those adventures he even meets the great pirate Störtebeker. And then there is the encounter with Freya, the Mermaid . . . A timeless fairytale of transformation and coming out of age, and an enchanting reminder that you cannot enter the world of love alone. The Irish poet Terry McDonagh has chosen his adopted Hamburg as the backdrop for the maritime adventures of the little merman which are illustrated in an impressively vivid way by Marc Barnes from New Zealand.
http://www.amazon.de/Michel-Merman
---
Ripple Effect
In this new collection, Terry McDonagh is back shaping his real and imaginative journeys round Cill Aodain, Hamburg, Melbourne or Slough. Always the artful storyteller, his language continues to bounce randomly and ordered like the memory of flat stones he used to cast out on the river.
The poet was sad when a tiny pebble, he'd taken from Raftery's grave in Killeeneen, fell into a gully in Melbourne. Later I was satisfied – I had passed it on. The ripple effect resonated near Flinder's Street Station.
He's in a Doll's House in some city or other, and in the Small Townville of his teenage years in County Mayo. He returns again and again to Cill Aodain – a place he never quite left but could never have stayed in, either.
But these streets and people are the true, dislocated home of Terry McDonagh. His lyrical moments lie about like spiritual observations. You just knew there was a god of a kind, or elsewhere, the dead were never far from us as children.
…Exile and dislocation are familiar themes in Irish literature and Terry McDonagh explores these to the full. His poetic self continually reflects on journeying and he crafts images to make sense of it all. Memory, alienation and longing are leitmotifs within him. – Carol O'Connor, Tintean, Melbourne.
…Terry McDonagh's poems begin in places we can all recognise, but takes us into uncharted territories with tall tales that are funny, unsettling, and wise. There are hints of wistfulness in these poems, of getting older and looking back, but he is confident that we do the right thing in the end, and like Raftery's pebble that he loses in Melbourne, he may no longer hold it but is happy that he has passed it on. These are poems we can immerse ourselves in, and will emerge richer from the experience. – Andrew Forster, poet and Literature Officer at the Wordsworth Trust, Grasmere.
http://www.amazon.de/Ripple-Effect
---
In The Light of Bridges
Terry McDonagh sees with the keen eye of an outsider who refuses to recognize political and social boundaries. We are taken on spiritual adventures through the streets and into the complex heart of man. Hamburg is more than city – it has a fascinating underbelly where the poet comes to life in a laughing field with a city tacked on to its hem. His universal Hamburg is a multitudes of stories, poems and drama about Any-where, Else-where, No-where – its façade is a challenge and a citizen is a fragile, Joycean institution worthy of closer study. He has Eimsbuettel by Heart; he's a HSV supporter with a season ticket, and a former drama teacher at The International School. His language is rich, light, hard, playful and full of visual images: Du Gisela … Sie Gisela; it's like a man discovering his face. On a personal level, he seems to thrive in an adopted culture and language that can never be, fully, his. He seems to suggest that true homeland is the language of the heart. When in doubt, ask Heine, Borchert, Ruehmkorf.
In the Light of Bridges is a bittersweet love song to Hamburg.
Terry McDonagh is a master bard of the home from home; integrated he may be, but 'tidy and tailored', as he claims here? Never. He has an observing novelist's eye for the specifics of place and an empathetic poet's ear for the universality of the human spirit.
He is a writer with a sharp nib and a generous heart.
Ian Watson, editor of Newleaf Magazine

http://www.amazon.de/In-The-Light-Of-Bridges
---
The Truth in Mustard
Terry McDonagh's latest poetry collection, The Truth in Mustard, was launched in Booksellers bookshop, Madrid, on World Book Day, April 23rd by Irish poet, John Liddy and The Irish Ambassador to Spain, Justin Harman. Their memorable speeches opened a door and new possibilities for the book. Manager, Antonio and his staff did everything they could to ensure the success of the evening
It was a grand affair culminating in a delightful meal generously sponsored by Matthew in an upper chamber of his James Joyce Pub. Many thanks
The launch was supported by The British Council Young Learners where Terry McDonagh conducted writing workshops throughout the day of the 23rd as part of World Book Day. John Liddy, Sonia Contreras and other members of staff at The British Council, organised these and other workshops as part of their contribution to 'book' events in Madrid.
Jim Trainor at Vaughan Radio did a half-hour interview with Terry McDonagh, which was transmitted live throughout Spain on the morning of the 23rd.
---
No Place in the Marshes
I spent two unforgettable weeks in Indonesia in October 2004. It all started about three years ago when Indonesian poet and publisher, Dorothea, Rosa Herliany, of Indonesiatera publishing house, came to read and discuss her work at the University of Hamburg. She had been invited by Professor Damien N. Toda – professor of Indonesian studies in Hamburg.
Professor N. Toda felt my poetry would work well in Indonesian and so the project began to take shape. Poems were chosen from some new work and from two of my books, A World Without Stone and A song for Joanna. On Monday October 18th I was able to be present at the launch of my book, At Home In The Marshes, in Yogyakarta – thanks to financial aid from the Department of Arts Sport and Tourism in Dublin. The translation was grant-aided by Ireland Literature Exchange, Dublin. So all in all we could be more than grateful to Dublin for having made this project possible.
This week was very successful for a number of reasons: we had a very big attentive audience of about 200 people; some of the poems had been put to music and two bands, Melancholic Bitch and Next of Kin, played these pieces live for us; all the major newspapers covered the event; radio did live interviews with me in the English language and I was able to talk to university students and staff at Sanata Dharma university.
All of this was made possible by Indonesiatera: Rosa, Andreas, Gunawan, Atik, Nana, Arif, Wikan, Dodok, Prasti, Puji; Khotimthem. Thanks to Rosa I spent the first week of my time in Indonesia in Bali where I read at the Writers Festival in Ubud.
I felt honoured when I was told I was the first Irish poet to have a collection come out in the Indonesian language.
---
Some Comments
For the reader it is a joy to try to discover what is real and what is born from the imaginative mind of the poet…a compelling and exhilarating tale of a life lived home and away from home. Joachim Matschoss, poet, novelist and dramatist, Melbourne and Hamburg.
Here is a poet at home with duality, whether it concerns God and the Goddess, the surreal and the familiar travel and home or – the most fruitful of all – Germany and Ireland. The outcome is a serious yet playful Irish voice deepened by the European experience. Philip Casey, poet and novelist
Mit seinen Gedichten schlaegt Terry McDonagh eine sprachliche Bruecke zwischen Irland und Hamburg.
These poems are like sweet revenge on all those who love rules for their own sake. Geoffrey Gates, Australian author of A Ticket for Perpetual Locomotion
Located somewhere between Hamburg and Kiltimagh, Terry McDonagh has the outsider's perspective and clarity of vision on both cultures – often lacking in those grounded in either…Ger Reidy, Irish Poet.
A hilarious one about head lice. Yes, head lice! Terry McDonagh shows that even these can be a topic for a poem…Gordon Snell, Irish Times.
A Song for Joanna is so successfully lodged in the particularity of Australia – its vibrancy, variety expanse of sky and land, its mixed cultures and Aboriginal origins – that, returning from a trip to Ireland and filled with longing for it, I fell back in love with my own country. And through it all, the blue-green talisman of love…Dr. Robyn Rowland, Australian poet